Wiadomość ta w wersji polskojęzycznej znajduje się tutaj.
This is an article about a symbolic grave of Arthur Reuel Tolkien in Birmingham; it also includes remarks about the family of his father, John Benjamin Tolkien. Concerning the grave of A. Tolkien, there is an article on the Elendilion news site (in Eastron/Polish).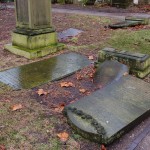 During my search for information on the ancestors of J.R.R. Tolkien, I came across a reference to his grandfather, John Benjamin Tolkien, who was buried at Key Hill Cemetery in Birmingham, and also a photo of the gravestone itself, which was featured in September 2009 on the Find a Grave website by a pair of English sightseers, Julia and Keld Smedegaard. Later on I received from Dick Empson of the Friends of Key Hill Cemetery additional information and photos, now made available to you.
The inscription on the stone says:
Frank Tolkien
born July 28th 1864
died April 24th 1867
Howard Charles Tolkien
born December 27th 1866
died October 27th 1867
The beloved children of
John Benjamin and Mary Jane Tolkien
of Handsworth

Also
Arthur Reuel Tolkien
their son
who died at Bloemfontien, South Africa
February 15th 1896
aged 38 years

Also the above named
John Benjamin Tolkien
who died August 1th 1896
aged 89 years

Also of
Mary Jane Tolkien
who died February 13th 1915
aged 81 years
Nearer my God to Thee

Also
Wilfrid Henry Tolkien
who died August 8th 1938
aged 68 years.
All the indications are that the family of J.R.R Tolkien and his biographers know nothing about the existence of this grave, if in the genealogical tree of the descendants of J.B. Tolkien (which can be found in J.R.R. Tolkien. Companion and Guide) there is no mention of the date of death of Wilfred Tolkien, whereas the dates of birth and death of Frank and Howard Tolkien are written with a question mark and in part incorrectly. Moreover, they are in ignorance of the fact that Arthur Reuel Tolkien?s gravestone can be found in England (and that it looks seriously neglected).
Key Hill Cemetery is located near the Jewellery Quarter, in the south of the Hockley area of Birmingham. It is ? together with the nearby Warstone Lane Cemetery ? the oldest ?independent? cemetery in the city (earlier, there were only churchyards there). Key Hill opened in 1836. It was a so-called Nonconformist cemetery: only non-Anglicans were buried there (members of the Church of England found their resting place in Warstone Lane). The tombstone of J.B. Tolkien?s family is situated near the main entrance on Icknield Street, just before the second intersection and the corner with the catacombs.
Tadeusz A. Olszański
Translated by Jarosław "Noatar" Schramel
Kategorie wpisu: Biografia Tolkiena, In Westron (English)