Źródło: Tengwestië: A Glossary of Elvish Terms in Fragments on Elvish Reincarnation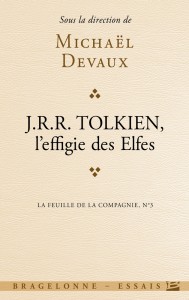 Nowa książka francuskiego tolkienisty dr. Michaëla Devaux nosi tytuł J.R.R. Tolkien, l'effigie des Elfes ('J.R.R. Tolkien, wizerunek Elfów', Wydawnictwo La Feuille de la Compagnie, Cahier d'études tolkiniennes, No 3; Paris, Bragelonne, 2014, ok. 500 stron.).
Praca jest zbiorem esejów napisanych przez Devaux, ale znajdują się tam również fragmenty pism profesora Tolkiena z okresu od lat 50. do roku 1972, które dotyczą elfiej reinkarnacji i związanych z nią zagadnień metafizycznych. Ta część książki (wydana i po francusku, i po angielsku, co może być ważne dla polskich badaczy pism Tolkiena) nosi tytuł "Fragments on Elvish Reincarnation". Dr Devaux zaprosił do współpracy Carla F. Hostettera (redaktora lingwistycznych pism Mistrza Tolkiena), żeby przygotował specjalny słownik terminów filozoficznych (metafizycznych), które spotykamy w tych pismach. Na stronie Tengwestië: A Glossary of Elvish Terms in Fragments on Elvish Reincarnation Carl opublikował w ostatnich dniach oryginalny angielski słowniczek, którzy przygotował do francuskiej książki. Jest on bardzo ciekawy. Mówi bowiem wiele o metafizycznej i fizycznej strukturze Ardy!
Dowiadujemy się z niego (wiemy to już z HoMe X, ale warto te sprawy zebrać i jeszcze raz opisać), że istnieje quenejski termin erma 'substancja pierwotna; primary substance' (dosł. 'to co jest pierwsze'). Jest to w filozofii mitu Tolkiena homogeniczna, jednorodna, niezróżnicowana pierwotna substancja właściwa dla pierwotnego stanu Kreacji dokonanej przez Jedynego Boga (Eru).
Następnie dowiadujemy się o terminie ermenië, który kojarzy się z terminem filozofii arystotelesowskiej i chrześcijańskiej, znanym jako Primum Mobile (moc sprawcza, pierwsza przyczyna ruchu). Od owego 'jedynego poruszyciela' (prawie dosłowne tłumaczenie terminu quenejskiego) pochodzi całe życie w świecie tolkienowskiego mitu.
Z kolei czytamy o quenejskich terminach estel 'zaufanie, wiara; trust, faith', o fëa (l. mn. fëar) 'dusza, duch zamieszkujący ciało istoty wcielonej; soul, indwelling spirit, of an incarnate being', o Imbar '»Miejsce Zamieszkania«, Ziemia; »The Habitation«, the Earth', o nassë 'materiał; material' (l. mn. nassi; dosłownie 'to, co jest').
Ciekawym słowem jest *únehta, l. mn. únehtar czyli… 'atom'! Carl F. Hostetter wywodzi to słowo od określenia quenejskiego ú-nehta 'nie-podzielne', czyli dosłownie to, co wyraża greckie klasyczne ατομ-ος 'niepodzielne; indivisible' (< α + -τομ-ος). Owe únehtar to najmniejsze możliwe do wydzielenia cząstki, "najmniejsze możliwe wielkości, które ukazują wewnętrzny wzorzec, odróżniający jedną nassë od innych nassi.
Widzimy zatem, jakie można dostrzec podobieństwa między metafizyką dzieła Tolkiena, a metafizyką starożytnych Greków. Temat na pewno warty jest dyskusji, a sama książka Michaëla Devaux jest warta naszej uwagi.
_____________________
G-i-P stands for Gwaith-i-Phethain, 'The Fellowship of the Word-smiths' or the linguistic website devoted to post-Tolkienian constructions in the "reconstructed" languages of Middle-earth [link].

Visit us on Facebook!