Tom Loback (1949-2015) był moim mistrzem, a od kilku lat także moim przyjacielem. Opuścił kręgi tego świata po bardzo gwałtownej chorobie 5 marca bieżącego roku, dwa tygodnie po zdiagnozowaniu przez lekarzy raka trzustki. Umarł w ramionach swojej ukochanej partnerki i żony – Susan Ryan. Nai Eru se mánata!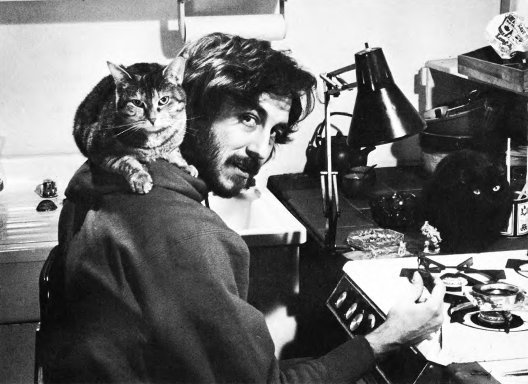 Tom Loback w swojej pracowni
Tom był przede wszystkim artystą. W Nowym Jorku znane były jego rzeźby z gałęzi i kamieni, które powstawały nad rzeką Hudson. Nazywał tę sztukę driftwood art, a pisano o niej nawet w The New York Times (tutaj). Tom był też ilustratorem tolkienowskim, elfickim lingwistą oraz badaczem sztuki wojennej Śródziemia (jego artykuł na Wikipedii znajdziecie tutaj, a inne teksty w miesięczniku Mythlore; znany jest też jego udział w pracy nad częścią systemu gier Middle-earth Role Playing – MERP. Chodzi o Halls of the Elven-king). Jednocześnie pracował też jako offowy producent teatralny na Broadwayu, projektował modele żołnierzyków, a prawdziwą pasją ostatnich lat jego życia była gra w racketball.
Grafiki Toma Lobacka poznałem jeszcze w latach 90. Dzięki spotkaniom w Sekcji Tolkienowskiej Śląskiego Klubu Fantastyki mogłem je zobaczyć w amerykańskich periodykach, takich jak Beyond Bree. Tom zgodził się, żeby jego prace znalazły się też w naszych polskich czasopismach tolkienowskich, a więc były prezentowane wpierw w Gwaihirzęciu, a potem wielokrotnie w Simbelmynë.
Tom i Susan, jedno z ostatnich zdjęć
Tom i Susan, jego wieloletnia partnerka, stracili w zamachu na World Trade Center swojego krewnego – dzielnego strażaka, który oddał życie, ratując ludzi. Od tego czasu przez wiele wiele lat byli wolontariuszami, którzy swoje wolne chwile spędzali na oczyszczaniu Ground Zero. Dzień po dniu, przez niezliczone miesiące, w pocie czoła, w deszczu, w chłodach zimy, w dymie, pyle i ludzkich prochach, doświadczając grozy zdarzenia, o którym pamiętamy jako o 9/11. Nikt nie wiedział wtedy, że i Tom Loback będzie męczennikiem tego zdarzenia. Choroba, która go tak szybko zabiła, była efektem tamtej pracy. 9/11 zbiera swoje śmiertelne żniwo do dziś…