Earl Carvalho from TheOneRing.net team reports that at Day 1 of ComicCon, the TORn staff down in San Diego caught some close-ups of weapon replicas from The Hobbit movie.
This close-ups are very interesting for our research. The first picture (click the photo below) shows the runic inscriptions on two Dwalin's axes. In Angerthas Moria this inscriptions are as follows:
UMRAZ
UKhLAT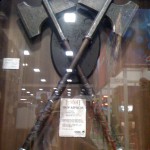 As our Special Spy reports (attention! it's an exclusive G-i-P information!) these inscriptions are in (David Salo's) Neo-Khuzdûl and probably mean: Grasper and Keeper (it's a linguistic and literary pun because two Sisters Brontë's dogs had the same names). Additional information about Dwalin's tatoos which comes from the Spy is as follows: the tatoos are the pictorial tale about Dwarvish history, laws, customs. One of them is the famous Khuzdûl battle-cry: Baruk Khazâd! Khazâd ai-mênu! written with Angerthas Moria runes. The Spy told us also about Bifur's special feature. Because of his special disability (?) he will speak only in Khuzdûl.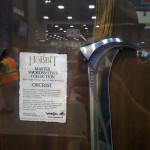 Another photo from ComicCon shows the details of the Orkrist blade. We can see there Elvish runes (Angerthas Daeron) and the Sindarin inscription which is as follows:
NAGOL E-LŶG ORKhRIST
'Tooth of-Dragon Orc-Cleaver'
The sword's handle is made of dragon's (literally lŷg 'snake') tooth. Our Special Spy told us that Thranduil's sword will have a lot of runic inscriptions too. We hope to find out what they are soon.
In The Hobbit movie we will find probably another language constructed specially for the films. It will be Wargs' tongue. The chief of the Wargs, giant white wolf will comunicate with his Wargs in a simple gluttal language.
G-i-P stands for Gwaith-i-Phethdain, 'The Fellowship of the Word-smiths' or the linguistic website devoted to post-Tolkienian constructions in the "reconstructed" languages of Middle-earth [link].

Kategorie wpisu: Filmy: Hobbit i WP, G-i-P Report, In Westron (English), Lingwistyka