Polska wersja tego artykułu znajduje się tutaj.

Please read also the first part of our inquiry entitled ?Does the Tolkien family come from Warmia??. In it, we write about an alternative but very likely etymology of the name Tolkien, and about the Tolkien family, who may be said to come from East Prussia, more specifically, from Bartia, and a small village called Tołkiny (Tolksdorf), lying in present-day Poland.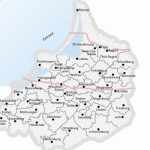 He was a citizen of the Kingdom of Prussia. In 1883, he graduated from the once famous Collegium Fridericianum in what is now Kaliningrad (German: Königsberg; more about that college, which was also called Friedrichs-Kollegium in German, can be read here). One of the graduates of the college was the famous Immanuel Kant, and one of its teachers was a Polish activist, K.C. Mrongowiusz. As a classicist, who worked in Leipzig, Johannes Tolkiehn wrote, among other things, Homer und die römische Poesie (1900), Philologische Streifzüge (1916), Ars grammatica (1913, 1928). He bore almost exactly the same name as John Tolkien, an Oxford philologist.
Professor Johannes Tolkiehn belonged to (one of the branches of) an East Prussian family, whose members had over the centuries written down their last name as Tolkien or Tolkiehn (but also: Tolken, Tolkihn, Tolkin, Tollkiehn, Tollkien, Tollkuehn, Tollkühn; see a web page with all the German surnames). Nowadays, one of the members of this family, Prof Dr Günther-Ulrich Tolkiehn, a German scientist from Wildau (in Brandenburg), when asked in 2003 about his genealogy by a Tolkien fan nicknamed ?Almacundo?, explained the origin and etymology of his surname in the following way (a thread in TheOneRing forum). Dr Tolkien had himself conducted a preliminary survey of the library holdings, as well as genealogical research with the aim of learning about his family?s possible connections with the Tolkien family from England. What he established (as based mostly on the work of one of his distant relatives, the Reverend Heinrich Tolkiehn) is as follows: Przeczytaj resztę wpisu »